Fushi's CBD Oil is a Whole Plant Derived Hemp oil together with CBD extracts which help to create a unique blend of oils. This formulation pertains to nature and science working in synergy, which in turn increases efficacy. The combination of Hemp seed oil together with Organic Sea Buckthorn oil, MCT oil, Black Cumin oil and CBD increases absorption of the CBD extract.
There are up to 70 phytochemicals present in Hemp/Cannabis. Singling one chemical compound from nature is not as effectively absorbed. When taken in its whole form, the synergy produces a much better efficacy. Retaining the plant's range of phytochemicals, terpenes and flavonoids is much more natural and effective, compared to an isolated CBD extract.
MCT oil contains medium-length chains of fats called triglycerides. Due to their shorter length, MCT's, ours derived from Coconut are easily digested. There are many health benefits linked to the way the body processes these fats. Cannabinoids are fat soluble, they break down and are stored in fat rather than water. Due to this fact, they are most effective when consumed with fat, increasing their bioavailability.
Additionally, the properties of Black Cumin Seed Oil seem to be a perfect match for both CDB & Hemp oil.
Fushi's CBD Oil is a natural, organic product therefore colour and consistency may vary from batch to batch due to season and temperature the indivual ingredients are grown in. Quality is unaffected.

Ingredients:
Cannabis Sativa (Hemp Seed) Oil*, Hippophae Rhamnoides (Sea Buckthorn) Oil*, Medium Chain Triglyceride (from Cocos Nucifera) Oil, Nigella Sativa (Black Cumin) Oil*, Organic CBD Leaf and Flower Extract (Full Spectrum, Max THC <0.2%) from Cannabis Sativa.
*Fushi oils, organic, virgin cold pressed & fresh from harvest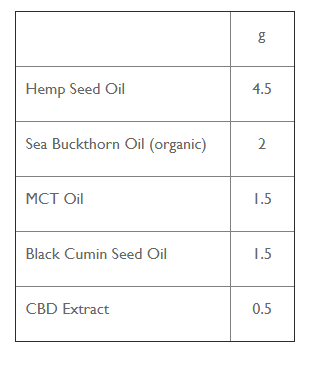 Directions:
10ml bottle equals 200 drops. 1 drop equals 2,5 mg CBD extract.
Take a few drops under the tongue once a day. Gradually increase to two or three times daily if required or as directed by your healthcare practitioner.
Caution:
Do not exceed ten drops per day. For best results do not swallow immediately. Store in a cool, dry place out of reach of children. Food supplements should not be used as a substitute for a varied diet. If pregnant or breastfeeding consult your health practitioner first.
Storage:
Out of sunlight and heat.
Manufacturer:
Fushi Wellbeing Ltd, Unit 3 Bell Industrial Estate, Cunnington Street , London W4 5HB, UK
Puts on market:
Galleria Internazionale d.o.o., Predavčeva 6, 10000 Zagreb, Croatia
Porijeklo: Ujedinjeno Kraljevstvo