Collagen+ for healthy bones is a complex nutritious dietary supplement. Beneficial in protection of musculoskeletal system and connective tissue and also great injury prevention product.
As a result of containing active ingredients such as MSM, chondroitin, glucosamine and peptides of hydrolyzed bovine collagen, it also promotes recovery and regeneration of ligaments, joints and cartilage. Increases vitality and power of joints under increased effort due to bones growth, weight or any sport activity.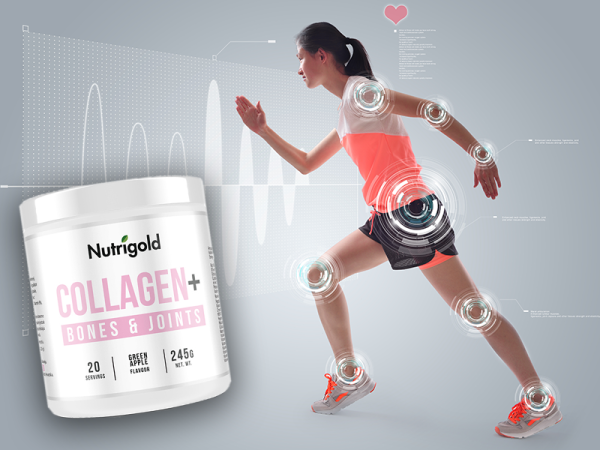 Suggested use:
Add one scoop (12,25 g) of dietray supplement to 2dcl of water and stir until well combined.
Ingredients:
Peptides of hydrolyzed bovine collagen (BODYBALANCE®), glucosamine, msm, calcium, magnesium citrate, vitamin C, acidity regulator: citric acid, chondrotoin, natural apple aroma; color: betakarotein, brilliant blue FCF, vitamin E; sweetener: sucralose, hyaluronic acid, vitamin D3, vitamin B1, vitamin B6, vitamin B9 (folic acid)
Warning:
Keep out of the reach of children.
Recommended daily dosage should not be exceeded.
Food supplements must not be used as a substitute for a varied and balanced diet and a healthy lifestyle.
Pregnant, breastfeeding women and individuals taking medications should consult with healthcare professional before use.
Storage instructions:
Store in a dry and dark place at room temperature.
Expiry date:
Indicated on the packaging.
Distributed by:
Galleria Internazionale d.o.o., Predavčeva 6,10000 Zagreb, Croatia
Country of origin: United Kingdom