Cornflakes Fit with low sugar content is a healthy meal option for breakfast or any light meal throughout the day. Low in fat with high fibre content.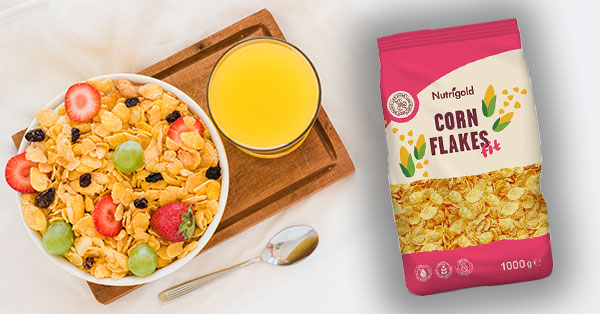 Suggested use:
Pour milk, yogurt or fruit juice over your cornflakes bowl.
Add fresh or dried fruit, compote or muesli if desired.
Ingredients:
Corn meal 98,5%, malted barley extract, salt, acidity regulator: sodium phosphate.
Warning:
The product contains gluten.
May contain traces of peanuts, sesame, soy and nuts.
Storage instructions:
Store in a dry, cold and dark place.
Expiry date:
Indicated on the packaging.
Distributed by:
Galleria Internazionale d.o.o., Predavčeva 6, 10000 Zagreb, Croatia
Country of origin: Poland