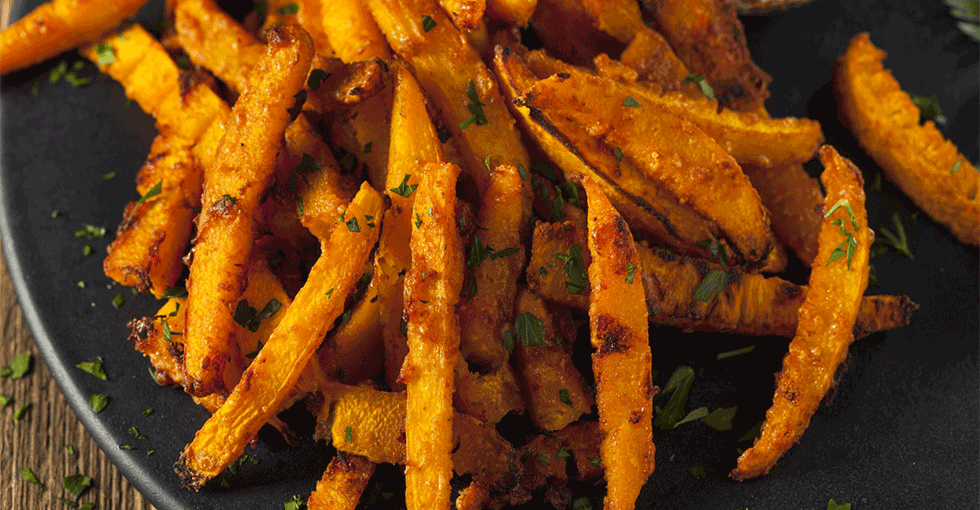 Even though it is not the first guess, butternut squash is relative to cucumber and melon. Interesting fact, but what is more interesting is its versatility and how easy it is used in recipes instead of potato.
Junk food doesn't have to be unhealthy. Make it healthier by using the oven instead of the deep fryer.
Butternut squash is full of carotenoids which are important antioxidants. When you load a plate with butternut squash, you stock up on four different types of antioxidants. Therefore, load the plate with a delicious, crispy snack.
Instructions:
Preheat the oven to 180 degrees, toast the hazelnuts in the meantime.
Add coriander and sesame seeds to the pan and toast for another minute. Allow to cool, then chop together with the cumin in a mortar.
Peel a squash, cut it into strips, pour olive oil over them and sprinkle with the mixture from the grinder.
Stir well and place on baking paper in a baking sheet. Bake for 35-40 minutes. Feel free to flip the fries in the pan once or twice.
For more healthy recipes and advice, check out our NEWSLETTER!