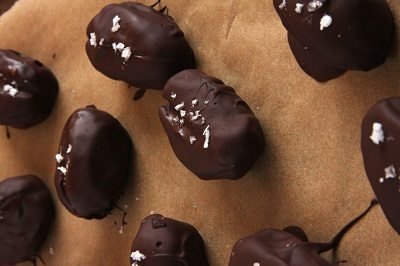 As a dessert or a healthy snack, stuffed dates are a real sweet treat. According to the Ayurvedic diet, similar dishes are ideal during cold autumn and winter season, nevertheless, we recommend enjoying them all year long!
After tasting fresh, soft, Iranian dates, which "melt in your mouth," we were immediately enchanted! No matter what type of date you consume, your body will be grateful. Super fruits of divine taste are always a good "to go" snack, but they are even better in many desserts. Which one exactly? Read on and find out the answer at the end of this article.

If you are a fan of healthy foods, note this recipe as a healthier alternative to holiday cookies, but also everyday sweet treats. Best of all - it won't take you more than 15 minutes to make these lovely sweets.
Instructions:
Combine banana and ginger in a blender and process well until you get a compact mixture.
Remove the seeds from the dates and replace them with the filling mixture.
Finally, melt the cocoa paste and pour over the dates. Place them in the refrigerator to firm up.