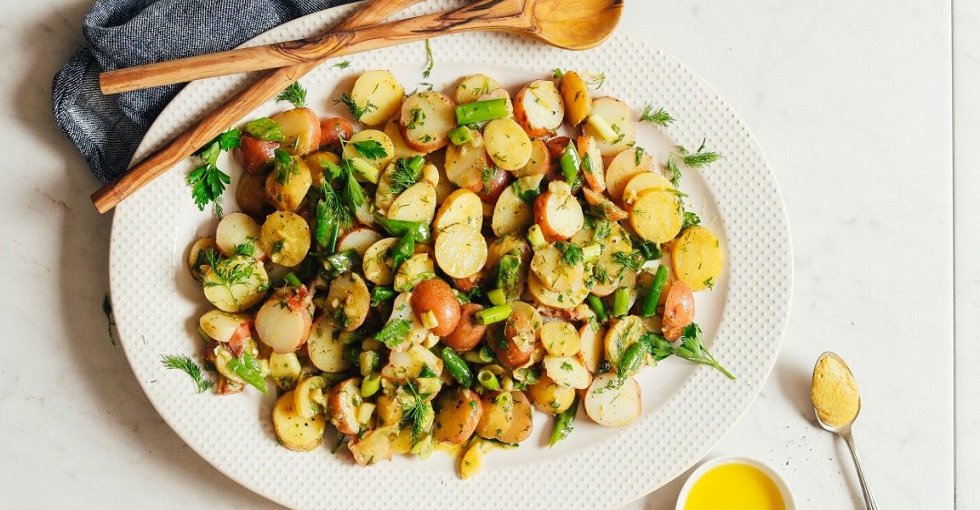 French cuisine is known for many dishes and salads, and this is one of the most popular ones. Slightly unusual, but still simple and amazing potato salad. We hope you enjoy this version that's perfect for summer BBQs, lazy picnics, road trips, and more.
The secret of all the great master chefs is that they can always make real fireworks for the palate from the simplest and most accessible ingredients. Well, proof that you are a real chef will be this simple potato salad and the perfect combination of spices and dressings. A refreshing salad that we rarely prefer over some other quicker salads will win you over with its great taste and rhapsody of aromas.
Baby potatoes are the basic food with which delicious cooking begins!
Instructions:
Rinse and scrub potatoes, cut thinly and cook for about 10-15 minutes until they soften.
Drain and rinse with cool water. Season with a dash of salt and black pepper and apple cider vinegar. Set aside.
In the meantime, prepare the dressing. Add mustard, garlic, salt, pepper, red wine vinegar, and apple cider vinegar to a mixing bowl and whisk to combine. Then, while continuing to whisk, slowly stream in the olive oil to emulsify the oil and vinegar. Add the dill and whisk once more.
Pour over dressing overcooked potato and sprinkle with spring onion.
Serve warm, chilled, or room temperature.
The recipe was taken from the www.minimalistbaker.com