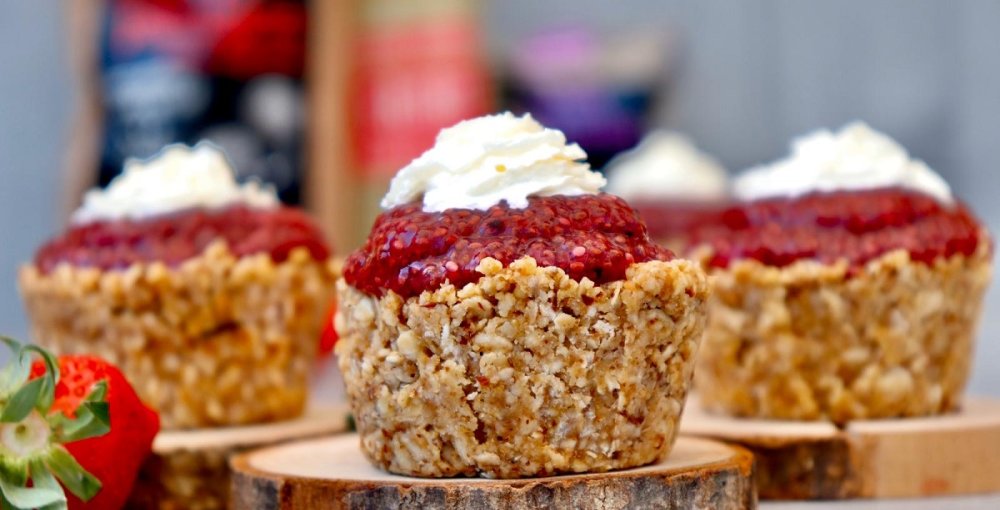 These toothsome cupcakes filled with cream and favourite seasonal berries will delight just about anyone who tries them.
Making mini fruit tarts traditionally requires preparing shortcrust pastry... therefore we decided to cut prep time and make your life easier. Our oat cupcakes with seasonal fruit and chia seeds are something that you will definitely approve of.
The perfect choice for banquets or birthday parties, because in addition to appearance, they are very tasty and everyone loves them. Now that the strawberries are at their peak, it would be a shame not to use them. Any other berries will do, but during the summertime, you can make them with a variety of seasonal fruits.
Due to their gelling property, chia seeds are the ones that have the function of turning every fruit into a kind of jam.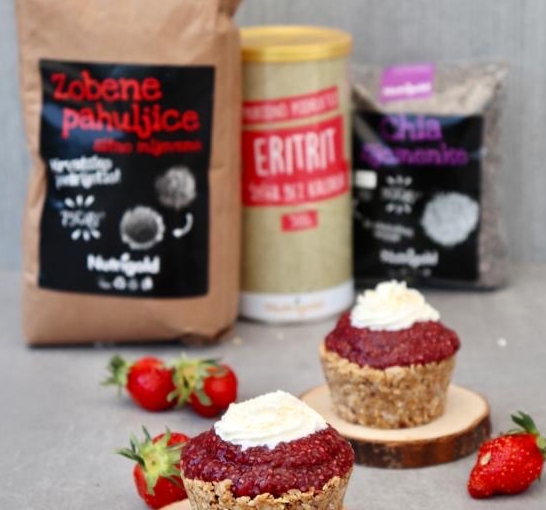 Instructions:
Remove butter from the fridge and leave it at room temperature.
Pulse almonds or any other nuts in the blender.
Add ground nuts and melted butter to the oatmeal and combine everything well with your hands.
Press the mixture into the muffin mould just up to the top edge of the mould. Place in the refrigerator while you prepare the pudding.
Wash the strawberries, clean them and grind in a blender. Add chia seeds and water, stir and set aside until they swell.
Take the baskets out of the fridge and carefully take each one out of the mould. Fill them with the thick pudding and decorate with whipped cream and bring them back to the fridge.
Serve chilled, and if desired, top up with a scoop of ice cream or your favourite fruit before serving.
*In this recipe, frozen fruit can be used likewise. Put it in a blender with 1 dcl of water and blend. During cold months, we recommend apple and walnut filling baked in ghee butter and spiced with cinnamon. When you press the mixture for the baskets into the muffin mould, wet your hands every now since the mixture can be somewhat sticky.
Use the comment box below and let us know how you did!
One more thing, our NEWSLETTER is also waiting for you!