As low as four spoons of this delicious source of energy contain about 9 grams of easy-to-digest protein and amino acids necessary for our body. Chia seeds are a source of omega-3 fatty acids (that can't be produced by humans) which improve brain functions, lower blood cholesterol and prevent various hearts conditions.
That's right, we talk about nutritional powerhouses that are becoming increasingly popular, especially in healthy recipes such as salads!
Chia seeds can be combined with cereals, yoghurt, as an addition to various fruit and vegetable juices or cakes.
Use whole chia seeds in salads and add a little crunch without affecting the flavour.
Here are some recipes worth trying!

CHIA & GREEN BEANS
Ingredients:
Instructions:
Cook peas and green beans in boiling water for 3 to 4 minutes and submerge in iced water to preserve the colour.
Place arugula in a bowl or a serving dish and mix all ingredients well. Sprinkle with chia seeds.
FRUIT CHIA SALAD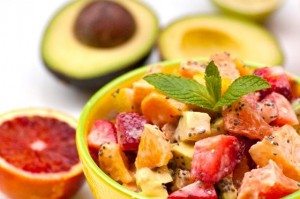 Ingredients:
1/4 cup chia seeds
1 grapefruit
1 pear
1 orange
1 avocado
1 mango (or strawberries depending on the season)
1/2 lemon, squeezed
1/4 cup Greek yoghurt
2 tablespoons vanilla extract
Instructions:
Wash and dice fruits.
Combine and mix all ingredients in a serving bowl.
Drizzle with a dressing prepared from yoghurt, lemon juice, vanilla and chia seeds.
FETA CHEESE & CHIA SALAD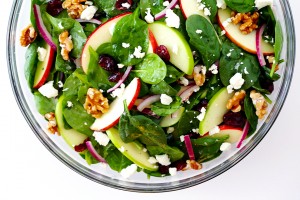 Ingredients:
handful arugula
handful spinach
handful lettuce
broccoli florets
1/2 apple
feta cheese
2 teaspoons chia seeds
yoghurt
Instructions:
Mix vegetables with skinless apple dices and combine with spices and yoghurt.
Sprinkle with feta cheese before serving.
Chia is a real treasure trove of nutrients - an important source of omega-3 fatty acids, rich in dietary fibre, protein, amino acids, antioxidants and contains a full range of micronutrients including calcium, B vitamins, zinc, boron, potassium, copper and phosphorus.
Interestingly, consuming just two tablespoons of seeds provides approximately 7 grams of fibre (which is a quarter of the recommended daily intake), 4 grams of protein, 205 milligrams of calcium and even 5 grams of omega-3 fatty acids, while containing only 140 kcal.
Subscribe to our newsletter for more healthy recipes and advice!