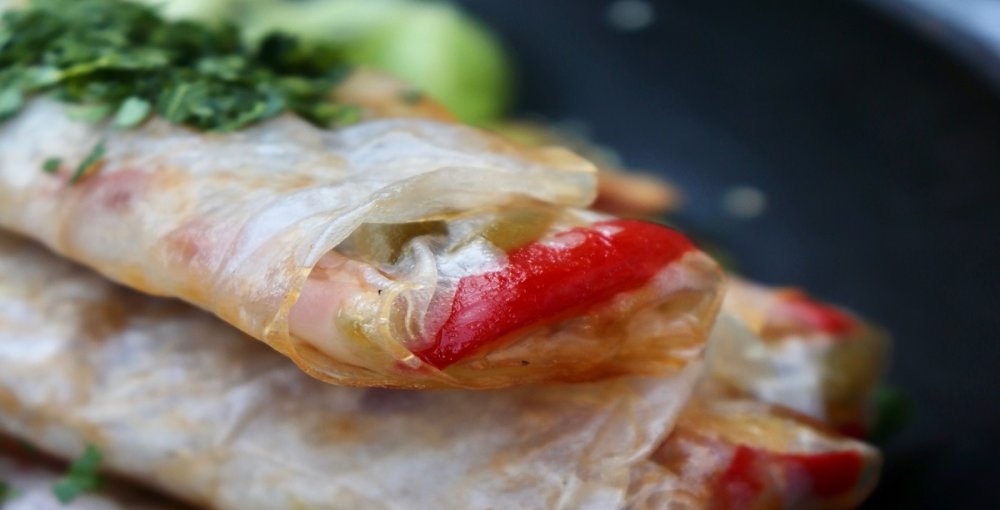 Spring rolls are a traditional Asian food prepared in East and Southeast Asia, and loved by everyone around the world!
It consists of rice paper in which various fillings are wrapped: vegetables, fruits and various combinations. The rolls are served raw or fried, but we will make them in the oven today. They are often served with a sauce in which the rolls are dipped. The sauce is usually a combination of fish or soy sauce with lemon, chilli and various spices, but you can try other flavours and serve it with vegan mayonnaise.
The gluten-free version of vegetable rolls gives people with gluten intolerance or allergies the opportunity to enjoy this light, tasty and healthy meal. In fact, this will be adored by the entire family, and will also look nice when served at the table.
It is important to know that rice paper should be soaked in cold water for 40-50 seconds before use. Just until they become softer and pliable under your fingers.
Frying spring rolls is not mandatory. Avoid fat, save time and enjoy these simple and delicious spring rolls full of vegetables.
Instructions:
Wash, peel, clean and cut the vegetables into thin, elongated strips.
Turn on the oven to 180°C and place the parchment paper on the baking sheet.
Put the butter in the wok, then the carrots and fry for 5 minutes.
Add the bell peppers, fry for 5 minutes, then add the rest of the vegetables.
Add salt, pepper, 0,5 dcl of water and simmer for another 10 minutes.
Set aside the finished vegetables and prepare the rice paper according to the instructions on the package.

Place the vegetables in the middle on each paper, fold the left and right ends inwards, and then roll.

Place the rolls on a baking sheet and bake until golden yellow (approx. 15 minutes).

If you want, you can eat them raw, without baking in the oven. Just fill them with raw or roasted vegetables as above, roll up and serve.
Let us know your impressions after you try this colourful recipe!
In case if we didn't mention it, NEWSLETTER is waiting for you!