Bolognese sauce is a meat-based sauce in Italian cuisine, typical of the city of Bologna.
To make it even more romantic, we have decided to take out the meat and replace it with healthy tofu, so-called soy cheese.
Traditionally used with tagliatelle and fettuccine variety of pasta or as one of the main ingredients in a world-famous lasagne dish. We will interfere a bit more and use whole grain pasta instead to round off this recipe and make it super healthy and exceptional.
We present to you - Tofugnese!
Why even bother changing the recipe and replacing meat with tofu?
From a nutritional point of view, tofu is a very valuable food known as an important source of protein.
Interestingly, 100g contains about 150 calories, has a complete amino acid profile and, depending on the manufacturer, has 10 to 20 g of protein. It has a low carbohydrate content with a slightly higher proportion of unsaturated fatty acids. Enough reasons why it should be on the menu.
Thanks to foods such as tofu, today we have moved a lot from tradition, so we can freely say that Bolognese sauce has become a dish with many faces!
Whichever recipe you choose, one thing is for sure - choose whole-grain spaghetti and enjoy the full taste of this sensational sauce, which is adored by the whole world.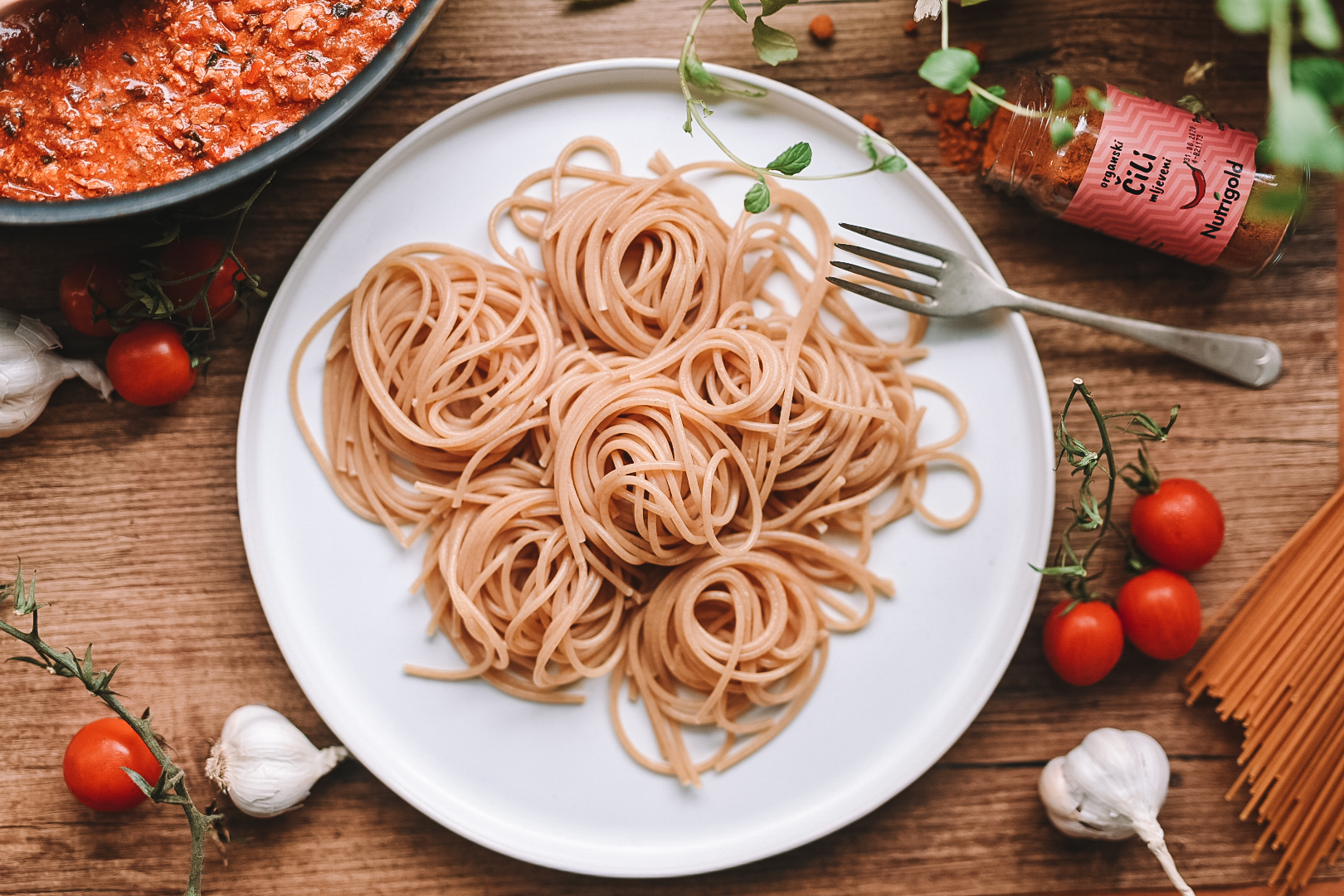 Instructions:
Crush the tofu with your hands and marinate it in olive oil, tamari sauce, salt, pepper, smoked paprika, chilli, chives and lemon juice.
Saute the onion on a little olive oil. When it turns yellow, add the carrots and peppers.
Add chopped parsley and garlic.
When garlic releases its fragrance, add marinated tofu and drizzle with wine.
Once the alcohol evaporates, add tomato paste, chopped tomatoes and water.
Cook for about 30-40 minutes and cook the pasta in the meantime.
Big thanks to Bruna from the YumYum blog who cooked us another great recipe. For more similar recipes, subscribe to our NEWSLETTER.
Do you have a favourite Bolognese recipe? Maybe a cool healthy version like Tofugnese? Share your ideas with us!