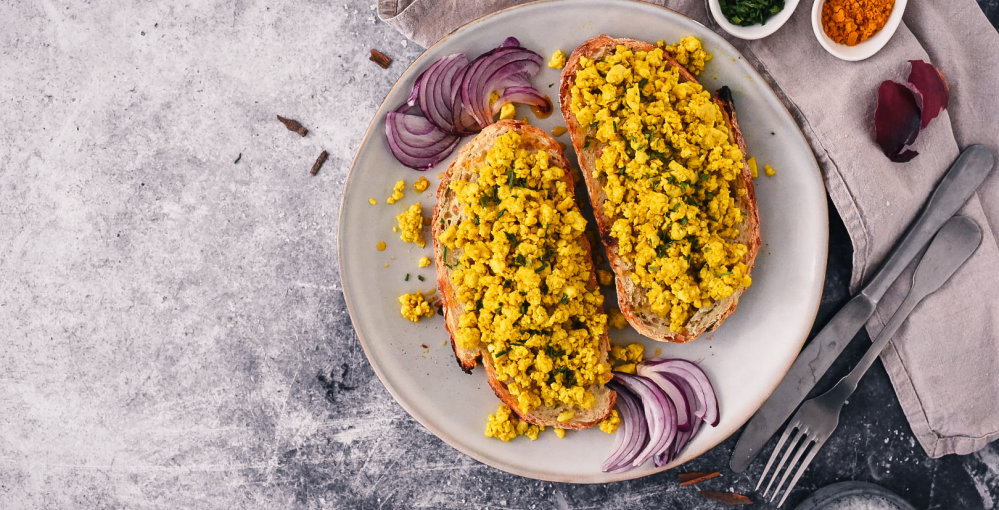 You are a vegan? You can't digest eggs? Maybe intolerant or allergic to eggs? Whatever might be the case, now you have a chance to taste unique scrambled (eggs)!
What do you mean? Good old tofu comes to the rescue as one of the most important plant-based sources of protein.
Unlike other protein-rich food (meat and dairy products), tofu is easy to digest due to fibres and water-soluble carbohydrates are being removed in the production process. It contains iron, magnesium, zinc, vitamins B and E. It is also cholesterol-free and possesses a low caloric value. Minced tofu with a little vegetable milk (mostly soy) guarantees you the right texture of scrambled eggs that we are all accustomed to. For a real authentic taste, there is one slightly intense, but very good ingredient called black salt.
When you imagine a real classic breakfast, scrambled eggs are probably something that immediately comes to mind. Ready in an instant and keeps you satiated for hours.
A perfect protein meal to keep you going through the day.
Instructions:
Crush tofu by hands
Heat oil in the pan and stir-fry garlic
Add tofu and remaining ingredients and cook for about 10 minutes
Serve on toast
YumYum, thank you for a delicious breakfast! We are not hungry anymore.